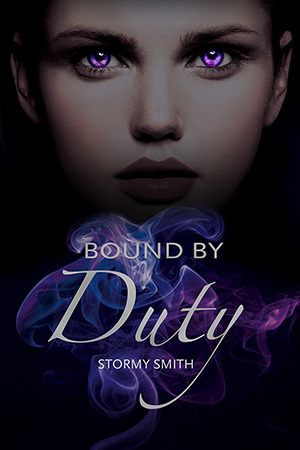 Amelia grew up in a world of half-truths. She knows she's an Elder but has no idea what that means. Her father reminds her daily that she must maintain control but he refuses to explain why. Even worse, she's betrothed to the prince of the Immortals and she doesn't even know his name.
Finally breaking free to live a few normal years at a community college, the last thing Amelia expects is to find her best friend in a cheeky Southern girl and to fall for a self-assured human who sees her for who she is and not what she'll be.
As she learns more about herself, Amelia realizes the line between love and duty is a thin one. As her power continues to increase exponentially and her questions are slowly answered, Amelia must make the ultimate choice. The question is, will her head or her heart win the battle?
1. Have you seen the gorgeous purple cover? Oh my gosh it needs to be framed AND Purple is my favourite colour so BONUS!
2. The idea of a heroine who doesn't even know what her powers are, never mind how to use them, was one I really wanted to watch play out and it is A LOT of fun.
3. Amelia leaves her family and moves across the country, as a sixteen year old who had just moved away from her mum, dad and sister to the other side of the world, I can relate and I wanted to explore how it was dealt with in fiction.
4. The setting of college was one I wanted to see again seeing as must YA novels are set in high school, my only other experience of college in a novel was Fangirl which was really fun.
1. You will be immediately drawn into the intriguing prologue and fast paced narrative of the book.
2. Bethany, Amelia's best friend, despite having no special powers is a total BAMF, exactly what all YA heroines need to back them up.
3. Amelia and Aiden have some hilarious banter together which is a great backdrop for Amelia's internal struggle of choosing between love and duty.
4. The intense drama in Bound by Duty has so many twists in turns you will be glued to the pages, it's FANTASTIC.
WARNING! SPOILERS UP AHEAD! Read on to know my spoilery opinions!
1. I am really excited to explore AniMages further, after we knew what they were, I TOTALLY called the Aiden thing (although I was half convinced that he was the Prince for a wee while).
2. So Micah is the Prince? I want him and Bethany to work out so bad! But now the Queen wants him to marry Amelia and I need to know how this goes ASAP!
3. There NEEDS to be a big escape scene, like seriously needs to happen, Amelia can't be stuck with the Queen and her entourage forever and Julia must
4. Really want to see Amelia come into her own and master her powers, she can do it and when she manages, Julia better hold onto her crown because that biatch is going DOWN!