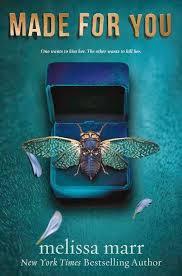 Made for You by Melissa Marr
Published by: HarperCollins
Publication date: September 16th 2014
Genres: Southern Gothic, Young Adult
Bestselling author of the Wicked Lovely books Melissa Marr's first contemporary YA novel is a twisted southern gothic tale of obsession, romance, and murder. A killer is obsessed with Eva Tilling. Can she stop him, or will he claim her?
When Eva Tilling wakes up in the hospital, she's confused—who in her sleepy little North Carolina town could have hit her with their car? And why? But before she can consider the question, she finds that she's awoken with a strange new skill: the ability to foresee people's deaths when they touch her. While she is recovering from the hit-and-run, Nate, an old flame, reappears, and the two must traverse their rocky past as they figure out how to use Eva's power to keep her friends—and themselves—alive. But while Eva and Nate grow closer, the killer grows increasingly frantic in his attempt to get to Eva.
For the first time, New York Times bestselling author Melissa Marr has applied her extraordinary talent to contemporary realism. Chilling twists, unrequited obsession, and high-stakes romance drive this Gothic, racy thriller—a story of small-town oppression and salvation. Melissa's fans, and every YA reader, will find its wild ride enthralling.
Hmm, I'm never good at the bio bit. I used to teach college & bartend, now I write novels. I love to meet new people, to hear their stories, to walk through new streets and see new vistas. I enjoy art in all its guises–graffiti, surrealist paintings, classic sculptures, tattoos, interesting buildings, Renoir, photography . . . Art & nature, they feed my soul & thus my muse.
Author links:
Made For You is a compelling YA thriller which has that perfect blend of mystery, dark humor, romance and some bat-shit crazy. Eva was a relatable protagonist whose POV contrasted sharply with the chilling narrative provided by the "Judge". I will admit I did not twig who it was until very late on in the book which is a testament to either my obliviousness and the recipe of clues and red herrings provided by the author. I was almost falling out of my bed at certain points because I NEEDED TO KNOW!! So without further ado:
4 Reasons Why You Will LOVE Made for You
1. The supernatural element really plays in well with the story and serves as a unique twist on the typical thriller genre.
2. The cute love story running through the novel provides some less heavy plot to stop from being bogged down in the dark, dark subjects covered. The " Will I? Won't I?" vibe provides some light relief.
3.  The charade of Southern Hospitality put on in this small town almost parallels the style society in Elizabethian times, it's a lot of fun to see this facade crumble to the ground as the unwritten rules of the Jessupites are broken.
4. Reading from Judge's point of view is a very intense reading experience, getting to seee inside his mind and trying to wrap your head around the way he thinks may prove to be a challenge but he is such an intriguing (if deranged) character who certainly stands out from the typical antagonists encountered in YA.