So as you may or may not know, dependent on if yo are a regular follower of this blog, I was in Edinburgh on Sunday and Monday visiting the Edinburgh International Book Festival as 2 authors I LOVE were in attendance: Sarah J. Maas and Lauren Oliver.. I went to three Q & A and signing events during my trip, the first with Sarah J. Maas in which she talked all things Celaena Sardothien, this was followed by Sally Green (author of Half Bad) and Angie Sage (author of the Middle Grade Septimus Heap series) and the final event with Lauren Oliver, Tanya Byrne and Erin Lange which you will hear more about on Saturday.
Sarah J. Maas
At the point which the Q & A took place, I was half way through Crown of Midnight and Sarah J. Maas herself SPOILED ME! Well, sort of , she used an analogy while trying to explain Celaena's state of mind in book three which made it pretty obvious and I guessed.  She also revealed that the inspiration for Throne of Glass came from Disney's Cinderella. Upon watching the scene of the ball she noticed int he score that there was a particularly jarring note which didn't quite fit causing her to think there was something more sinister going on such as Cinderella being there to assassinate the prince. From this point on she wanted to explore the story of this Cinderella assassin and thus, Celaena Sardothien was born. Sarah J. Maas has always been a big fan of fantasy as we soon learned during he Q and A because she REALLY loves Lord of the Rings (and may have had a lipstick kiss adorned Legolas in her bedroom when she was younger). She's also a huge on Buffy he Vampire Slayer which was a large influence for creating Celaena as Buffy is a kick-ass female heroine in her own right who inspired a generation. It was really weird because she mentioned a scene from an episode of Buffy I had watched literally 2 days previously, you know the one where Angel is fighting Buffy in the Season 2 finale and he's all
and she stops the sword with her hands and everyone watching is just like: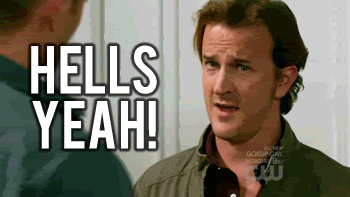 So the signing starts and I'm in the queue reading Crown of Midnight waiting casually and then the people in front of me are getting their books signed and photos taken, so I'm next in the queue and it is precisely at that point SPOILERS BLACKED OUT! which I get to the point in the book where if you've read the book then you'll knwo a really surpriseing very bad thing happens and I like squeal…like loudly and Sarah J. Maas is looking at me and I'm like "Why did you just do that to me?!" and she's got that knowing look in her eye because she KNOWS where I'm at and she's all "I'm sorry, it had to happen" and I was traumatized! But yeah got my books signed which means that I can to a FANTABULOUS GIVEAWAY! because at the Book Festival they were selling copies of Heir of Fire which isn't out for a few weeks yet but I have a SIGNED COPY to giveaway!
Stay posted for my Throne of Glass review and GIF reactions tomorrow!