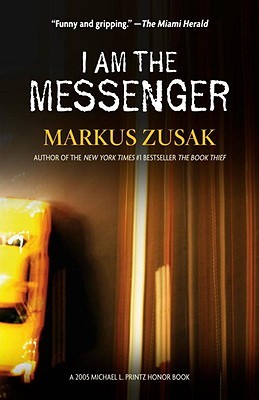 "
protect the diamonds
survive the clubs
dig deep through the spades
feel the hearts
Ed Kennedy is an underage cabdriver without much of a future. He's pathetic at playing cards, hopelessly in love with his best friend, Audrey, and utterly devoted to his coffee-drinking dog, the Doorman. His life is one of peaceful routine and incompetence until he inadvertently stops a bank robbery.
That's when the first ace arrives in the mail.
That's when Ed becomes the messenger.
Chosen to care, he makes his way through town helping and hurting (when necessary) until only one question remains: Who's behind Ed's mission?" – Goodreads
I am the Messenger is one of the weirdest books I have ever read in my life. It was amazingly written and absolutely captivated me from the beginning, though I'm still a bit unclear on some of the events which took place. The idea was ingenious, a man who was responsible for putting situations right whether punishing the evil or rewarding the unseen good made for some very intense scenes of heartwarming joy and also pure terror and uneasiness which I really loved, it's one of the best books I have read this year, truly fantastic and I recommend it to all of you.
Angus, Thongs and Full-Frontal Snogging by Louise Rennison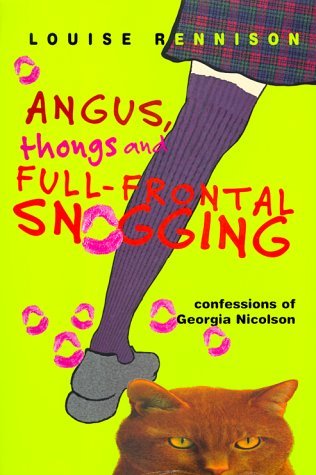 "There are six things very wrong with my life:

1. I have one of those under-the-skin spots that will never come to a head but lurk in a red way for the next two years.

2. It is on my nose

3. I have a three-year-old sister who may have peed somewhere in my room.

4. In fourteen days the summer hols will be over and then it will be back to Stalag 14 and Oberfuhrer Frau Simpson and her bunch of sadistic teachers.

5. I am very ugly and need to go into an ugly home.

6. I went to a party dressed as a stuffed olive." – Goodreads
As a newcomer to this series, I am truly gutted not to have picked it up earlier in my YA journey because I feel like I'm kind of pushing it in terms of maturity and being able to relate to this book. I IN NO WAY am trying to criticize the quality of the content of YA literature because the whole community is quite touchy about that (and rightfully so, I am SICK of having to defend my reading choices to snobby people). I am just saying that I feel that I have progressed past a point in my reading journey where it is suitable for me now. That being said, it was perfect for my pre and post City of Heavenly fire anticipation/mourning. It was a nice light read which I wasn't overly invested in and didn't require a lot of effort to read. On top of this, it was BLOODY HILARIOUS!
"I am going to become a writer for Cosmo – you don't have to make any sense at all. Or maybe I'll be a bloke, they don't have to make sense either."
"Overslept and had to race to get a life to Jas's with my dad. No time for yoga or makeup. Oh well, I'll start tomorrow. God alone knows how the Dalai Lama copes on a daily basis. He must get up at dawn. Actually, I read somewhere that he does get up at dawn."
ARC: Amity by Micol Ostow
I was given a review copy of this book in exchange for honest feedback to the publishers on Netgalley. This has in no way affected my opinion of the book.
"Inspired by a true-crime story of supernatural happenings and gory murders, Amity spans two generations and beyond to weave an overlapping, interconnected tale of terror, insanity, danger, and death." – Goodreads
Though the writing and this imagery in this novel was fantastic, it wasn't really for me. I found it difficult to follow the story as it was unclear which parts of the book were hallucinations and which had actually happened making it difficult to follow. I was reading slightly out of my comfort zone with this book and while it's good to change things up a bit I don't think this is a genre I will return to any time soon as it really wasn't for me. That being said, the aim of providing mystery and making the reader doubt them self was certainly achieved and to fans of the genre, I would recommend it because a terrifying narrative was delivered and will haunt readers long after they turn the final page.