I plan to post my wrap-up on a Sunday evening along with my Stacking the shelves in one big post but with the volume of books which I bought/received this week it would have been impossible and exporting the footage from the video took too long to have it up yesterday, I'm sorry!
What I Read Last Week
What I Posted Last week
Tuesday:
What Cool Bookish things I found Last week
Courtesy of Anna Heinemann of www.annareads.com I discovered a Pride and Prejudice Book scarf which because of my good grades, my dad bought for me! Isn't it awesome!
It can be found here. It is the cutest thing
Another thing which I found on etsy and have put omy my wish list are these two bracelets. They have little Harry Potter an Percy Jackson Book charms on them and they are soooo cute!!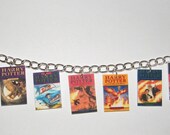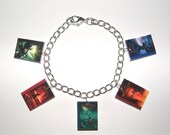 They can be found here
I also discovered the joys of Bloglovin' last week. (Like, I had it before last week I just had no idea how to work it!) Bloglovin' is a really great way to keep up with all the blogs you love without needing to visit each individually to see if they have posted. It let's you know if they ahve and you can just click! (I know that you probably know what bloglovin' is thsi is jsut for all of the people who are allergic to technology like me!) So yeha, you can follow me on Bloglovin' there is a link at the top of the page.
Books I was eagerly anticipating last week